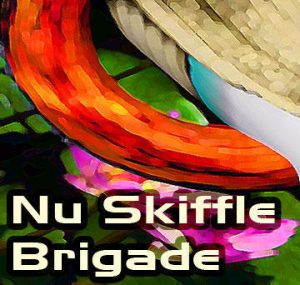 Nu Skiffle Brigade (NSB) was a fun project I did entirely on my own and which resulted in a CD – Step Out! – that was released in 2006. Most of the recordings were however done in 2002-2004.
Here are the tunes on the CD: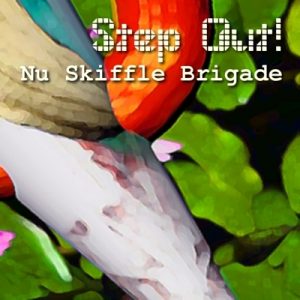 01 – Stepping out with Dinah
This tune contains samples from the recording of "Dinah" by the Mills Brothers and Bing Crosby in the 1930s as well as a sample of Dizzy Gilespie's voice from his tune "Jump Dideli-Ba". The rest is all me.
02 – Happy Days Skiffle
Contains samples from an early recording of "Happy Days are Here Again" as well as a sample of Cab Calloway scatting from a recording of the song "Jumping Jive"
03 – One Little Kiss
Sung by "Ukulele Ike", who's real name was  Cliff Edwards, and who later shape-shifted into Jiminy Cricket singing "When you wish upon a star" every Christmas.
04 – Mississippi Mud
This must be the least political correct tribute to black American music ever made by white musicians. Still, it is a tribute, and that's how I interpret it. I added quite a few instruments and percussion, plus a steel drum solo part.
05 – Flat Foot Floogie
"Satchmo" Luis Armstrong with the Mills Brothers from the early 1930s. Satchmo's trumpet solo was a bit short, so I sacrilegiously added a bit of trumpet myself, in the middle of it …
06 – Stompy Weather
All me with some sampled female voices
07 – Aux Iles Hawaii
Contains samples of Josephine Baker's song of the same name. I added a few passages.
08 – Purple Lizard
All me
09 – Step out (Indie Jungle)
All me again
10 – Have a Safe Journey Home
And another one all by me, including acoustic guitar. Contains a ridiculously fast ocarina solo, played live in one take on a keyboard.