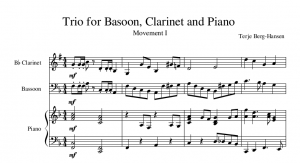 Trio for Bassoon, Clarinet and Piano
This trio comprises four brief movements, adding up to a total duration of about 9 minutes.
You may listen to the complete trio or the individual movements here (recorded with sampled instruments for demonstrational purposes only)
Complete Trio
Individual Movements
Movement I : Burlesque
Movement II : Stretto
Movement III : Waltz of the Rhum Raisins
Movement 4 : KISS (Keep It Simple and Sweet)
Feel free to contact me for pdfs of scores and parts. This piece has not yet been premiered (nudge, nudge).