This composition  – dedicated to my wife Aina – comprises 4 short movements for Flute, Clarinet, Oboe and Bassoon.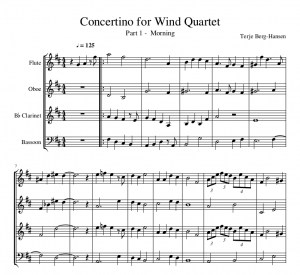 Parts:
Part 1: Morning
Part 2: Mid Day
Part 3: Evening
Part4: Midnight
Composed: August 2017
Not yet premiered.
Listen to the whole Concertino here:
(Recorded with sampled instruments, for demonstrational purposes only  – 7:34 minutes total)
Download Music Scores:
Contact me and I will send you parts as pdf.